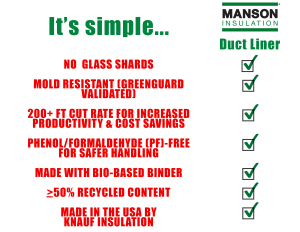 Offered in a variety of sizes and formats, Manson's flexible AKOUSTI-LINER and rigid AKOUSTI-LINER R fiberlgass duct liner can be used for a multitude of applications, both industrial as well as commercial.
Follow the links below to learn more about why Manson AKOUSTI-LINER is the best duct liner on the market.
"Since switching to Manson Duct Liner our workers are no longer being cut by glass shards and the liner cuts great on the water jet." – Josh Haley, Excel HVAC Inc.
Manson uses ECOSE® Technology which is a revolutionary binder chemistry that enhances the sustainability of our products. The "binder" is the bond that holds our fiberglass product together and gives the product its shape and brown color. ECOSE® Technology is a plant-based, sustainable chemistry that replaces the phenol/formaldehyde (PF) binder traditionally used in fiberglass products. Products using ECOSE Technology are formaldehyde-free!
SUBMIT THE ONLINE FORM BELOW OR CLICK HERE TO CONTACT YOUR LOCAL GIC STORE AND PLACE YOUR ORDER TODAY!
Manson Duct Liner Submittal Form
Watch the short video below to see how easy it is to cut Manson Akousti-Liner.