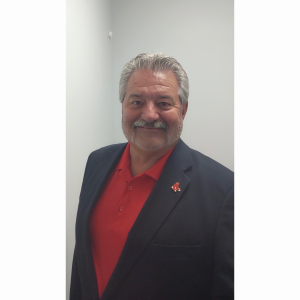 Congratulations to Mick Clinger on his promotion to Director of Sales & Marketing – Industrial & Export Divisions, effective October 1st!
We had some fun with our new Director and asked him a few questions about his background.
Q: How many years have you been with GIC? A: I was hired by Mark O'Neil (former President of Commercial Products) 21 years ago. I worked for Mark the first 3 years and for Larry Murphy (President of FIOX) the last 18 years.
Q: What were all the roles you held here at GIC? A: Regional Sales Manager, General Manager (GM) – Orlando, GM – Orlando & Fort Myers, GM – Orlando, Fort Myers and Tampa, Regional Vice President – Florida, and finally Vice President – Industrial & Export Sales
Q: How many people are on your team? A: We currently have 14 members of the Export & Industrial Teams which are comprised of both the Estimating and Sales Teams.
Q: What is your favorite past time? A: Shore fishing in the Atlantic Ocean, specifically from Cape Canaveral, Florida. *see photo below
Q: What do you love about your current role with GIC? A: I enjoy going to market, making sales calls with the GIC Teams, travelling to customers and walking job sites, growing our business, watching our people grow and providing whatever resources are needed for their success. I also love the fact that General Insulation is independently owned and enjoy working with our leadership group to continue the course of GIC's growth and success.
Q: What is your favorite book? A: Without question "Citizen Coors" which is about the Coors brewing family, from the beginning with Adolph Coors trough different generations of the Coors Family and eventually to current ownership. It's about doing whatever it takes to be successful. It is a very powerful business leadership book.
Congratulations, Mick, on your new role as General Insulation's Director of Sales & Marketing – Industrial & Export Divisions!