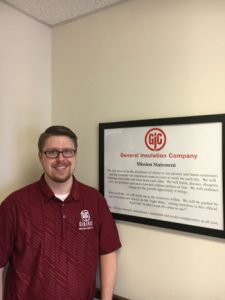 We are pleased to announce Kirk Crafton as the new General Manager for GIC's Dayton, Ohio branch!
Kirk has insulation in his background as he grew up in Shelbyville, Indiana, less than a mile from the Knauf plant. Kirk attended Ball State University and then, in 2009, he joined General Insulation's Indianapolis branch as a warehouse worker and later as a driver. In 2011, Kirk transferred to the Dayton branch to work as an Inside Sales representative before accepting the Operations Manager position in 2012. At the end of 2014, he left GIC to attend Sinclair Community College, where he graduated from the Police Academy. Kirk subsequently returned to General Insulation's Dayton branch in May 2016 as an Inside Sales representative.
Kirk lives in West Carrollton, Ohio with his wife Jennifer and their two-month-old son Clark. He is active in his church where he serves as a member of the Safety team. Kirk also enjoys going to the movies and spending time with his family.